Thank you to those who like art and those who like to create.
"585 (Cobaco) member". A plan to hold a solo exhibition at the "iine!no Museum" of "iine!Creators Colony". Promote your product as a web shop ad.It is an online museum and an online box gallery.
There are people with limited movement who can't leave home. I like the art created by those people.
We aim to make a vacant house in Niiza City, Saitama Prefecture, a vacant house art in Nagano Kimura, and a vacant house in Iwamura Town, Gifu Prefecture a place for everyone to present and exhibit.
【CAH】iine!Creators Colony 585 member
Price:
Enrollment fee:2,525 yen
One year: 7,020 yen (One year lump sum payment)
Publishing fee:The change is 585 yen for up to 5 items at a time
Service:Online Box Gallery
Benefit 1
Online display of handmade, art and craft works and products for sale
Benefit 2【Common to all members】
Members can take classes, shop, exchange and play at the following online facilities at iine! Creators Colony.
iine! School/iine! Art museum/iine! Community Center/Mottainai♻️Bank/Colony Station
Benefit3【Option plan】
Options are charged, but Zero members have the benefit of discounts, so please feel free to ask.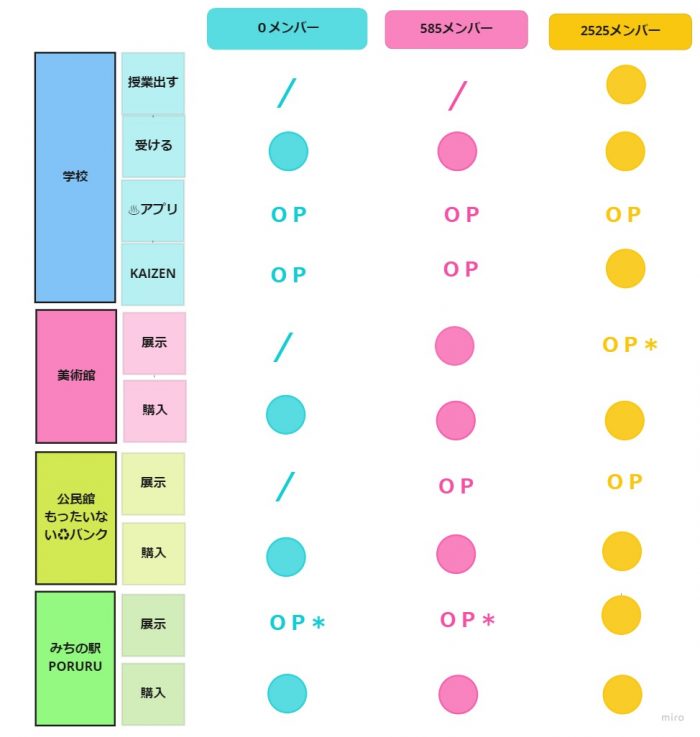 Benefit 4
Includes 0 member benefits (Zero Waste.ART and zero yen ads)
History of the online box gallery
Starting from 2005, an art online shop and a waiting room gallery, for 10 years, we have been offering art exhibitions for free, sending out art coverage reports, and doing art support activities to support artists and galleries. (NikoNikoNet, Craft-en, etc.)
In 2010, a grand exhibition of 17 artists was held at Gallery STAGE Ginza in Tokyo. I got married and moved to living in three bases: the sea, the mountains and the city.
I also made an atelier on the first floor of my home in Tokyo. It was fun to decorate collections, photos, works, play with children, heal and be surrounded by what I liked. I got a "KABOO" stuffed animal from a friend. The character I drew is three-dimensional for the first time!
For three years from 2018, I have been on a journey while helping to revitalize the area and move to the Shin-Etsu district. In 2019, we held "Travel Small Box -cobaco.art-" to sell the works of women from the "Monozukuri Department" that we met in Nagano's coworking space. Sold at Marche in Tokyo and Niigata. We have named the box shop "small box" cobaco.
I enjoyed studying, selling it myself, interacting with customers, and meeting many local artists. As a feeling of "moving around with the work and selling it," the feeling of "Tora-san's feeling" was truly an activist who traveled. Above all, I am grateful and grateful to all the women in Nagano for participating.
In 2020, everyone's situation changed due to marriage, childbirth, and moving. As it became difficult to move between areas with covid-19, we considered developing the next Cobaco.
iine! Creators Colony decided as "online gallery box".
You can also hold a "web solo exhibition" that displays the works of members like an art museum.
You can "promote" the work you want to sell.
iine! Creator's Colony does not own inventory and we charge a posting fee instead of a sales fee.
Anytime, anywhere online, in any region of Japan or anywhere in the world.
Watch when you want to watch, and buy when you want to buy. Such an "online box gallery".
585 is a numerical version of cobaco.
Why don't you join us for a yearly payment of 585 yen per month and promote sales online?
We will continue to sell the works of everyone in Nagano's Manufacturing Department.
Chiyoko's works may be sold? ? ?
By all means, please see the works of 585 members and purchase!
Finally, when asked, "Why does Chiyoko support so much art, craft, and handmade products?", the answer is "I like it."
Cute things, lovely things, interesting things. The talent of the person who makes something that I cannot make is wonderful! I want to support that person's activity and deliver it to the fans. That's it.
The initial concept of NicoNicoNet is ""Let's go to look for dreams and hopes that connect with a smile on the NicoNicoNet". Even now, this underlying feeling is the driving force behind our activities.