"Thank you very much" to all who have become members
interesting! pleasant! Thank you! I am happy and I hope you can take a step forward.
2525(NikoNiko)member,can hold classes (online workshops, online workshops) at school. We will support you from the preparation. Let's have fun and practice!
"Online coworking space where you can learn while working from home and expand the world beyond the local area" is " iine! Creators Colony".
Each one is a creator. I imagine an online colony where you can meet and interact for a certain period of time whenever you like.
There are three member slots, and what does the third 2525 (Nikoniko) member do?
By discussing online and learning from each other, "you can learn what you can't do and have a positive experience. It's fun."Work together online at your own pace. While learning and practicing, we provide learning to grow your own activities and work.
Let's hone your service and activity.
Think, decide, and act. Let's move forward.
It is important to learn "what you do not understand" while acting.
I will share what I have learned, so let's learn together.
Grow up while learning what you offer and yourself.
【CAH】iine!Creators Colony 2525member
iine! Creators Colony 2,525メンバー
Price:
Enrollment fee:2,525 yen/ One year: 30,300 yen (monthly payment of 2,525 yen is also possible)
Service:Online learning support.
Skill sharing for home work and online content provision.
Organize issues and suggest improvements. Suggestions for brand growth.
Benefit1 3 hour online meeting
・Once a month, 3 hours online meeting
・We would like to ask about the status of the members.
・We ask about the worries of the members.
・I want to teach. Business consultation. According to the members, the three hours will be an online meeting for future realization.
・Support by email and messenger
Benefit2
You can hold [classroom] online workshops and online courses at a school in the village. We will support and advise you to create contents to open together.
Benefit3
[Opening booth at Colony Station] You can plan and create collaborative products and like them for limited sale at [Colony Station] in the village.
If you are already in business, you can open a shop at Colony Station. Like! It must be a limited edition product of [Colony Station] in the village. We will work together to formulate the process of planning and creating collaborative products! For more information, let's talk as a 2525 member.
Benefit4
If you wish, we will provide learning support for home-based work other than classes and skill sharing for providing online contents. We will clarify what each member should do and practice the "branding" together while learning how to start.
Benefit5【KAIZEN】Proposal for improvement/Proposal for brand growth
・Once a year
・I will listen to the talk for three hours separately from the three-hour meeting once a month
・Proposal of concrete movement and flow to be practiced in text, and explanation of effect of improvement plan with visualized "only chart for you"
Benefit6【Common to all members】
Members can take classes, shop, exchange and play at the following online facilities at iine! Creators Colony.
iine! School/iine! Art museum/iine! Community Center/Mottainai♻️Bank/Colony Station
Benefit7
Includes benefits for Zero members
Benefit8【Option】There is a 2525 member discount!
・【OP】Online museums can be posted, but there will be a charge.
・【OP】There is a fee for listing on Mottainai♻️Bank
・【OP】【KAIZEN/SIMPLE】Organize issues
Provide a "your own chart" by listening to consultations and organizing and visualizing your current situation and issues
・【OP】【KAKIYAKU】
Create your own sentences such as PR, advertisements, introductions, etc.
・【OP】KISO.page
This service is homepage production. Our service specialized in expressing on one page. Each of our pages are all samples of KISO.page【Example page】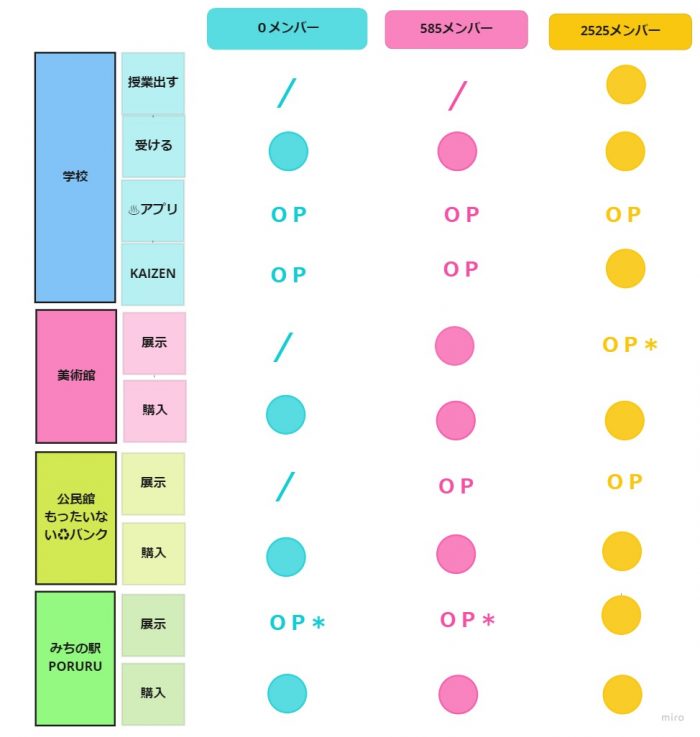 Benefit9
Includes 0 member benefits (Zero Waste.ART and zero yen ads)
Benefit10
Includes 585 member benefits(Online Box Gallery)
---
What are three important things for women?
Your intention/Family/My life
Three things are important to you
-Creation of creativity and nurturing ability-Your personality can be utilized
-Your work and activities can be developed-Abundance can be circulated in society<
-I am convinced that the result will be "self-actualization".
Your life and your work are things that you think, decide, act and realize.
You create your life with your initiative.
"Welcome!" I will be the person who sees you off with a smile.
"I will Go!" We support you with a smile and moving forward.
iine! Creators Colony 2525 Thoughts on members
For three years, I've been working in the Shin-Etsu region to sell the works of people who like local revitalization, migration, and handmade things in Tokyo, and I met wonderful women in various places.
Every time I met, I got the courage and energy from the women who worked hard for each life stage. There were also times when I wanted to consult or support. Thank you for your kindness.
But I am always asked, "What is your job?" "Do you have the money to live?"
I was also told "I thought you would never come again"
People forget.Some people remembered me, kindly respected me, and respected me!
I will provide my time and power to such people.It is my joy that the person shines.
Of course, we will establish it as a job and increase trust.
how? I've been thinking for a long time.
As a result, in 2020, we decided to create an online coworking space where you can study with peace of mind
You can study at home while working or doing activities, expanding your world beyond the region.
It can be used as "learning support" and "skill sharing" where you can overcome the worries and anxieties of women one by one and experience them.
My mother-in-law was a "at home" person who has been undertaking proofreading work at home since 1965. The money I earned from the proofreading job sent my two sons to college.
Nowadays, "at home" is commonplace, but at that time, "NaiShoku" was more recognized, and it was rare for a woman to work at home while raising a child as a full-time housewife. Mother-in-law, who continued to work "at home" for 50 years, was at the forefront of the times.
I respect such mother-in-law and now respect all women who work from home while raising children. Working at home while doing housework and raising children is a supernatural work.
I am not raising children. That's why I want to support mothers who are raising children, women who want to realize their dreams, and women who want to do what they want to do but lack confidence and can't move.
"Living honestly" When I was 30, I started my life again.
The idea and idea of ​​"creating an original work that makes good use of you without being hired" and "cherishing yourself" were finally established at Stay Home. I realized the importance of "learning" and "doing". It's also fun for people and groups to walk together.
"Laughter. Women just laugh and make people happy."
A boss (Okka) at work in his 20s said.
She was a hard-working and affectionate person. It had a great influence on me.
My goal is to become a grandmother like her in Japan.
I am not your parents, brothers, sisters, workers or neighbors.You can talk to me at ease.
I want to do it! You can do what you want with fun and bright eyes.
Imagine your smile.
And grandmother Chiyoko smiles and watches you "cherish your true feelings, your family and your life" while you are alive!
2020/8/16 chiyoko Kusayanagi